Sigrid Somers studied ceramics and sculpture at the Museum of Modern Art in New York City. As a young child she was featured in the Sunday New York Times as an artistic prodigy. She continued to draw and paint throughout her childhood and eventually studied drawing at Columbia University where she was the youngest member of the class. Sigrid Somers studied painting and sculpture at the Arts Students' League and painted at La Sorbonne and Lysan. She continued her study of painting with Paul Feeley at Bennington College and sculpture with Simon Moselsio at the same school. She later continued her study of sculpture with Nina Cantrell, in Port Washington, New York and painting with Betty Holliday of the Nassau Museum of Art.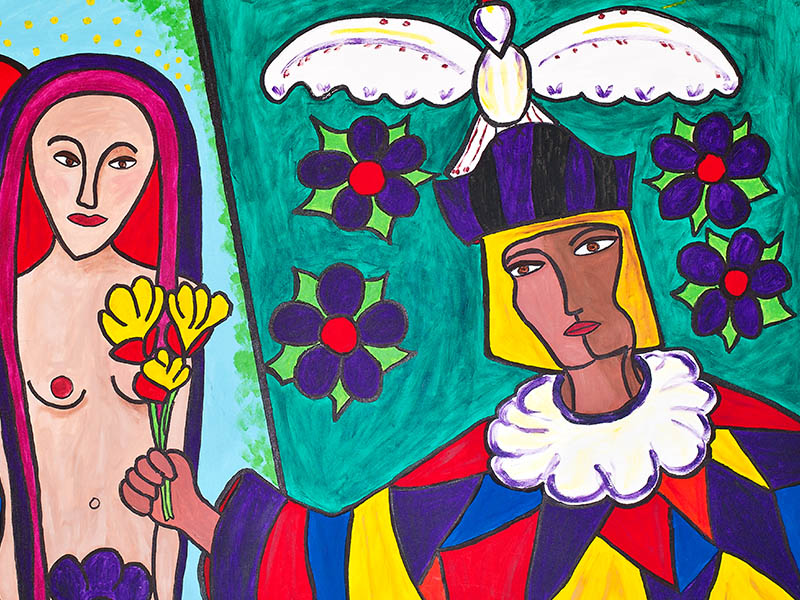 She has also studied with Jack Zilko in Roslyn, New York. She has shown in New York at the Bodeley Gallery, in London at the Portal Gallery, and in Zurich at the Kindlei Hotel. Recently she had a solo show at the Point of View Gallery in Chelsea. She has also shown at the Westbury Library, the Huntington Library, the Sands Point Beach and Tennis Club, the Nassau County Museum of Art, and the Sands Point Country Club. She currently is affiliated with the Graphic Eye Gallery in Port Washington, New York and the Stamford Art Association Gallery in Stamford, Connecticut.
Her art is rich with colour and movement, sometimes taking her inspiration from Picasso, Matisse, Klimpt, Miro, Stella, and Dali, whom she knew, sometimes from the impressionists, and often just a mélange of beautiful juxtaposed images that exist solely in her own imagination. Somers has spent a lifetime at her art. She has grown and changed, and her art, always vital, has evolved through many incarnations. She is sometimes whimsical, sometimes evocative, but always interesting. She has spent a good deal of time living abroad in Taipei, Colombia, Tehran, Panama, Venice, Paris, and Switzerland, and has traveled through many other places. Her work brings to us the magic, and mystery of her travels and the people she has encountered. Her people seem to speak to us, and her use of colour and contrast clamors for our attention. Many of her works have an almost primitive, native explosion of colours and symbols such as birds and totems infusing her art with an aura of mystery and the sensuousness of the jungle. There is an approachability to her work that draws us in, something beautiful, eclectic, and passionate opens up the door to her invisible, imaginary, magical, kinetic domain. Some of her bird paintings take us to a lush tropical rainforest, her people can be compelling or fanciful, sometimes urban, sometimes primitive. Her most recent works catapult us into a world she has created filled with the juxtaposition of magic, illusion and the dream like world of our childhood.